Remember the times when we used to carry bulky cameras to all places to record stunning videos and save them on the camera's SD card.
Those videos were then transferred onto the computer systems that had the video editing software. The video editing professionals would then work on the videos and edit them according to their preferences, add music, cut shots, etc.
Tune into today's era, when this entire procedure has been cut short to only mobile devices, which are these days integrated with the best cameras.
Technology seeping into our society has had some great effects on everything, simplifying all lengthy procedures.
We have quick resorts to almost everything, thanks to the evolution of mobile applications. These apps have made each one of us highly dependent on them for almost everything.
App developers have been doing wonders by creating mobile apps for every small thing.
From on-demand service apps, which help us get all services without the hassle of doing anything, to the e-commerce apps, which have enabled the users to shop from the comfort of their homes, and the technical apps which have made things like photo editing and video editing very simple, we know for a fact that these apps are here to stay and provide the users with best solutions to all their problems.
Video editing apps have become the new trend in the industry. These have not only simplified the lengthy editing procedures but have also made the users efficient enough to edit the video from anywhere in the world.
Their functioning is so smooth that even a person with no prior knowledge of video editing can try his hands at it.
Introduction
If you have been wondering about where to invest your time and money, then you can consider getting a video editing app developed and earning money out of it. Video content is the lifeline of marketing, and marketing is the lifeline of any product or brand.
To sustain the market and compete with other big names, you have to give them a touch of competition yourself. And the best way to give them a tough fight is by marketing your content with the help of lucrative and engaging videos.
Videos have become so important for each one of us these days, that we can spend hours watching them on our mobiles. In today's time, there are several video editing apps available on the app store, however, each one of them has certain distinct features to offer to its users. 
Videos are being used by bloggers, writers, companies, social media users, and several other people. They make the videos on their phones, add effects to their videos, put a smart, stop button, chop the video and shuffle the scenes back and forth.
Editing software like FilmoraGo and Apple Clips have been quite useful to most users and there is scope for more. 
These apps are enabled with several functions that help the editors use their expertise in creating an engaging video.
The video apps can be segregated into five categories:
– Video editing apps
– Video recording apps
– Apps that allow the recording and editing both on one platform
– Apps that allow screen recording
– Apps that enable the users to record their screens and edit them
Video Editing Market Statistics
Ever since the evolution of smartphones happened and people started turning to them for clicking photos and making videos, there has been an exceptional rise in the demand for video editing apps.
While the professionals might need their big screens and systems for editing videos, regular users have been installing these apps for making their videos look attractive and appealing.
There was a great rise in the percentage of over 400% in the mobile video views from 2012 to 2014 alone. 50% of the video viewing happened on mobile phones of people. 
Magisto, which is one of the leading video editing apps around the world has seen a great leap in its users.
The app had over 50,00,000 installs in 2019, while the total number of users they claim to have is 113 million and the platform has up to 450 million videos. 
The market for mobile video editing is believed to cross $25 billion by the end of 2022. 
Leading video editing apps across the globe

It is the leading video editing app which is used on Instagram and can be installed in both iOS and Android devices.

Since people don't have much time to edit small videos, they can directly shoot the video on Instagram and edit it there and voila, it is ready to be uploaded.

The users just have to select a theme of their choice, and the entire video is edited in the backend by the app itself, while users sit and enjoy the simple process. 

This app is available for Windows along with iOS and Android devices. It offers a plethora of effects, transitions, themes, and stickers to choose from.

Users are not charged a penny for using the app, however, it has a premium version, which can be accessed only by getting a paid subscription for the same. 

This is one of its kind, offered to all Apple users, who can use it without paying for its subscription. The app allows the users to slow it down or add speed to the video along with providing them with animated soundtracks to choose from.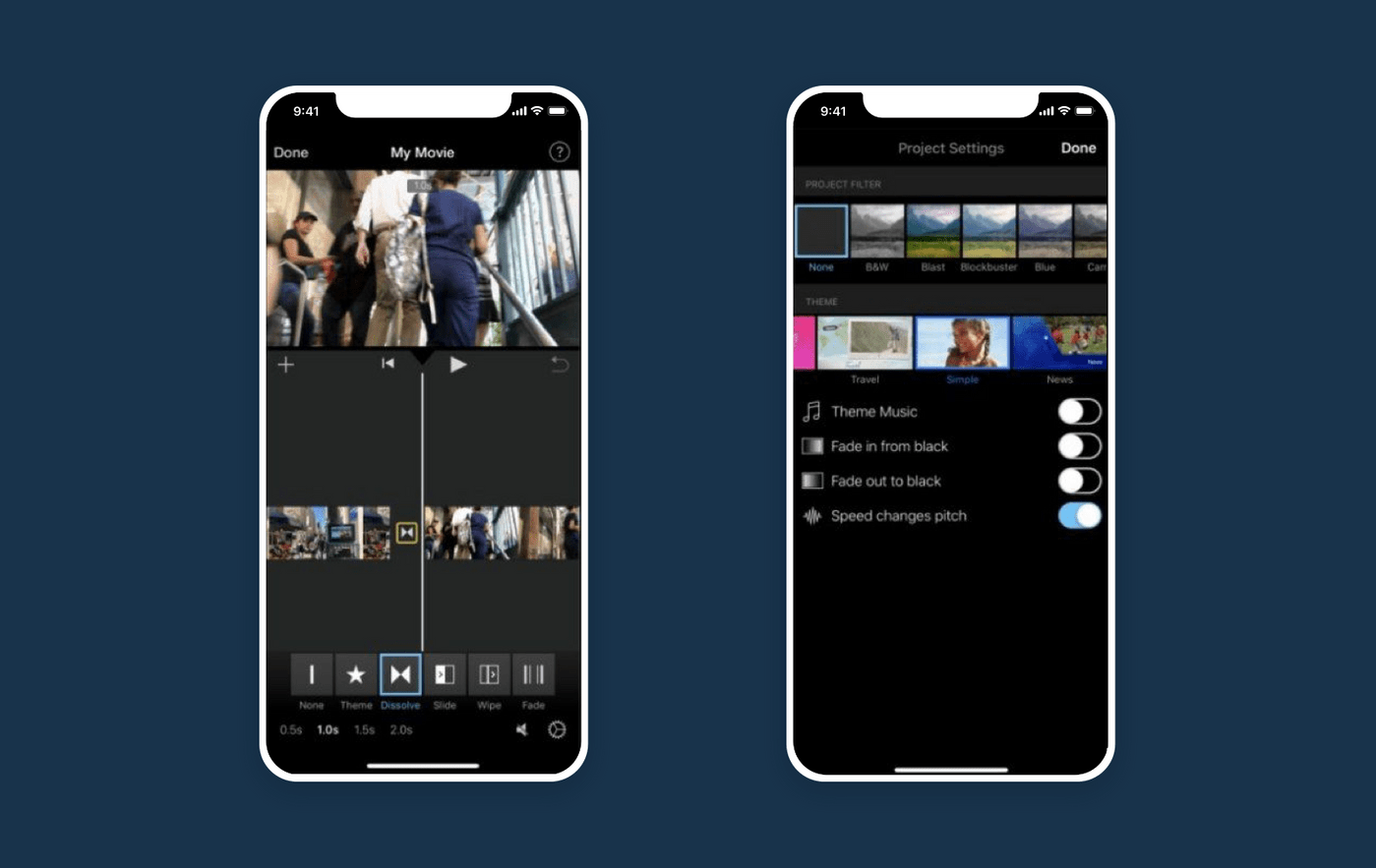 It is easy for the users to extract the sound from their videos as well. Another big advantage of using this app is its feature that enables users to give their video a title, which is visible at the start of their video.

Things to be considered while developing a video editing app
Developing a video editing app is not an easy task. There is a lot that goes behind the planning, and implementing phases.
Take a look at the things that you need to spend time on before and during the development phase of these apps:
Idea 
Before proceeding with the development of the app, the first and foremost thing to do is to generate an idea and work on it.
Plan everything later, but first, get your idea on a paper or a word document on your system. It is very important to understand all aspects of your app before anything else
Target audience
Who is going to use the video editing app the most? Which age group people will install it in their device maximum, from which region are the people going to download the app?
All these questions should be answered before finally deciding upon who your target audience is going to be.
Most likely it will be the youth that will use the video editing app the most, therefore, you must ensure it is quick and easy to use and does not have too many steps involved in editing the video.
Several steps to editing might just bore the youngsters and they might switch to some other application. Secondly, launch your app on the app store or play store with minimum features first and let the people download it.
This will help you receive the critical feedback of the users. The changes required by them can be improvised on the app during the initial phase itself and the features can be worked upon.
If any feature that is missing has been demanded by the users, it should also be integrated into the app going forward.
Unique
Technology has advanced so much, that there always is something new for each app developer. There are several fishes already in the pond that are doing extremely well.
Think of ways to make your app an exception by offering something unique and different to the users. If you try to copy some other video editing app, your app might not even see the morning sun, as users are already getting all those things in the other app.
You must experiment and offer them something different in the form of ML, AR or VR. It will keep you ahead of the others, and your app might grab more attention than similar apps do.
Social media integration
One of the most important things you must ponder upon is how to get social media integrated into your app?
Once a user edits a video and watches it, he or she might want others to witness his work. For the same, a user might want to upload the video on a social networking site such as Facebook, Twitter, Snapchat, Instagram, etc.
So, it is always a good idea to integrate several social media platforms that you can into your app.
Monetization
All apps are made to generate money and help you get a return on investment. There are mainly three types of monetization plans – advertisements, in-app purchases, and through features that can be used only upon being paid.
Before even starting the project, you must figure out your revenue model and work on the same. It is important to mince money from your app.
Features to be integrated into a video editing app
There are commonly two panels in a video editing app – one for the users and the other one for the admin. Below mentioned are some basic features that should be integrated into these apps
FOR USERS
1. Sign up and log in: The basic and most important feature also is the first step to creating a separate and distinct profile for each user.
A signup process should be easy and integrated with social media so that the users can easily link one of their social media accounts to share all their details.
This saves them the time of entering the details again. Secondly, the login should not take time as the user generates his username and password before proceeding to work on the app.
2. Email verification: Upon signing up, the users will receive a verification mail on their personal email I'd which they have to confirm by clicking on the link forwarded to them on the mail.
3. Creating video: This feature allows the users to make videos on the app itself. They can make use of their device's camera and shoot a video from the app camera, rather than switching to their phone camera. This saves them time, and they won't have to upload the video from elsewhere to edit it.
4. Themes: The video apps also offer users a feature wherein they can choose from the various themes available and select an editing style before editing their video.
These apps have a plethora of editing styles and guidelines to help users create attractive videos.
5. Videos auto-selection: This enables the users to let their app do their work while selecting photos or videos that have to be edited. 
6. Music: Want to add background music to your video? Well, these apps are equipped to help their users add custom music to a video.
The apps have their music library from which users can choose music according to their preferences. Users can also upload music from their iCloud storage or from their device.
7. Settings: A user has full authority to change the setting for their home page and the editing styles as and when required. They can also update their profile and make changes whenever need be.
8. Video posts: Want to video record something and put it up on social media? It is easy with the help of these video editing apps, as these allow you to post the video directly on your social media accounts. These are integrated with several social media platforms and apps.
9. Save videos: This feature allows the users to create their personal albums on the app itself, which has an amalgamation of all the videos edited or uploaded by them on the platform.
So, in case, a user wants to refer to an old video, they can easily do that by looking up the video on the saved videos.
10. My account: This feature contains all necessary information about a user on the video editing app platform. This has the personal information of the user, and his username among other things saved.
11. Coupons: A video editing app has a separate feature of coupons, where they list down all the latest offers and discounts being run by them and the time frame for which the offer is valid.
12. Subscription: While users enjoy most features free of cost, there are additional features that can be used only after the users subscribe to the app. So, advanced features come at a cost.
FOR ADMIN
1. Admin login: Like in the case of users, the admin to has to sign up on the application and generate their username and password before starting to work on the same. Their login credentials have to be entered each time they open the app.
2. Dashboard: This is maintained by the admin. They get all important information regarding the number of downloads, the number of videos uploaded in a day and number of videos edited, etc.
The dashboard also gives them access to the real-time analytics of the application which also helps in keeping the performance of the app in check.
3. Managing themes: While all video editing apps have a separate set of themes and editing styles, it is the admin that exercises control over it.
They can add new themes and editing styles as and when needed, and likewise, remove some of them at any point of time.
4. Subscription management: This feature allows the admin to control the subscriptions and coupons offered to the users through the application.
They can introduce new coupons at any time, and similarly, withdraw an ongoing offer by removing the coupon from the category.
5. Managing the users: Several users register themselves with an app. It is the admin that keeps a check on each user and manages them.
They have all the important information on the users who use the app maximum and on those who use it once in a while.
Advanced features of a video editing app
Payment
The payment gateway should be integrated into the app, to allow easy and hassle-free payments. With the introduction of several new payment methods, it has become easy for all app developers to integrate secured payment gateways.
Since some of the features are payable and the users have to give a certain amount to access those, they should be able to pay for the same through their debit or credit cards, online payments or e-Wallets such as Amazon Pay, Google Pay, etc.
Real-time analytics
It is important to generate a report of the app's functioning. Therefore, the app developers should allow the admin to fetch the report from servers with the help of a few APIs.
The report of analytics and the reports give the admin an insight into the number of videos edited, the number of videos uploaded, and the total number of users of an app.
Sound effects
Adding music to a video from the music library of a video editing app might not be a task. However, adding a sound effect can lure users as they will be able to add their own voice or any other sound for a matter of fact in the background of their video. This helps them in making an appealing video.
Editing the already existing videos
Several apps allow you to edit only those videos which have also been shot by the same app.
However, it is important to widen the horizon by allowing users to upload the already existing videos on their devices to the app and edit those. 
AI (Artificial Intelligence)
Users these days are very attracted to this feature as it generates the videos and photos from their device on their own and creates an awe-inspiring video or story with background music on its own.
The users have to do very little or no effort to make a video of their memories as all the work is done by the app itself.
Filters
While most apps these days are using special filters to enhance the look and feel of a video, it is necessary to add filters to beat the competition that prevails in the market already. Also, you can consider adding stickers as a feature to your app as it makes the videos quirky and attractive.
Creating presentation
This feature allows the users to combine short videos and pile them up in a video format in an attractive way. This will end the monotony in a video.
Team required for developing a video editing app
It is not an easy job to develop a video editing app like iMovie or Viva Video. There is a lot of effort and expertise required for the same.
The entire process of developing the video editing app might become tedious and a lot of hands and brains might be needed to get something great on a platter.
Therefore, it is important to get the best team on board and be sure of how to use their services. Since it is a very technical app, you might require the assistance of the team every now and then.
Therefore, the developers that are being employed for the development process should monitor it every once in a while.
Here is a team structure required for the development of a video editing app:
1. Project Manager: His role is to get everything working smoothly in the team. He should exercise complete control over the entire team and should have a deep understanding of the entire project. 
2. Android developers, iOS developers, and back-end developers: They are required to understand the technology stack that is required to build your app.
It is the developers who are the most vital people in the creation of any app, as it is with their expertise and knowledge that the app is developed. 
3. Graphic designers and UX/UI designers: Want an app that functions smoothly and is bug-free? You must get a graphic designer on board, as they will look into it and help you develop an app that is not only fast but gives you the maximum output.
Also, it is very important to work on the look and feel of the app, as the display intrigues the users. 
4. Quality Assurance testers: Does the quality of your app match up to the expectation? Is it made keeping in mind the quality standards of the apps in the market?
All these questions can be dealt with by a QA expert who has a good understanding of how the industry functions.
Cost of developing a video editing app
Can you estimate the cost of a video editing app right from the beginning? Well, there is no certainty as to the amount you might have to spend on app development.
With each addition, your price might go up and might exceed the budget. Therefore, only the app developers can give you a round figure of how much the app would cost you.
Also, several factors affect the pricing of an app. Take a look at these aspects:
Number of personnel working on the app and the amount of time invested by them in its development.

Number of features you want to add to your app is another aspect helping you decide on the budget. If you are planning to develop an app with basic and advanced features, you might have to incur a lot of costs than those who settle for an MVP initially.


A more complex app will cost you more than a simple app.

The country or the region of the app developers is one of the major factors affecting the price of any app. If you have a manpower team deployed in the U.S. for your app, it will cost you much more than a team in Europe or Asia.

 What platforms are you planning to launch your app on? Each platform may cost differently, however, if you are planning to develop an app for cross-platform, your cost might shoot up.
Having stated all the factors that affect the cost of a video-edited app, we will share a rough estimate for developing a video-editing app.
An app that is developed for a single platform with minimum features will cost you somewhere around $ 10,000 to $ 30,000. However, an app built for both iOS and Android might cost around $ 45,000.

Conclusion
If you are planning to get a video editing app developed for your organization, you must first get in touch with the right kind of developers, who have experts in this field.
The developers need to have an understanding and technical know-how of how these apps function. A budget needs to be laid down and you have to see if the development team falls within your budget.
Secondly, you should understand the needs of your target audience before starting to work on a project as it is important to develop a product that can have maximum installs because of its competitiveness.
Only those apps that have something different to offer to their users can stand the competition. Thirdly, you must read and understand the market so that you know the kind of features that are being used the most by video editing app users.
Also, always lend your ears to reviews and feedback as it will help you improve the features of the app and make it exceptional.